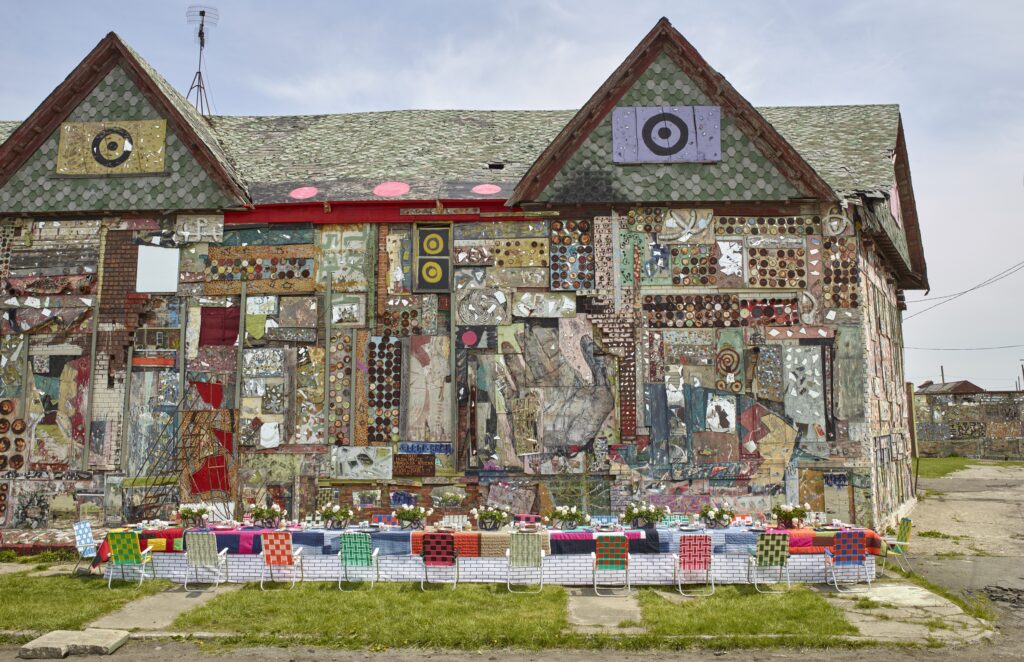 Years ago, when I first met David Stark­—the influential event designer and producer—he gifted me his book Napkins with a Twist; and what a gift! In this brilliant little book, he teaches the magical art of napkin folds, including how-to guides. It has immediately come to be my Bible. I consult it whenever I entertain, because it always helps me to present the table with a fresh and different look, dinner after dinner, year after year. When David told me that he has a new book coming out this fall, I was intrigued. It is a coffee table book entitled At the Artisan's Table, in which he collaborated with Detroit-based designer Jane Schulak. It is grand, elaborate, complex, and fascinating. The production is so ambitious that it brings to mind the mega-productions for events in which Stark made his name internationally. And, like everything he touches, there is a great deal of innovation, beauty, and accomplishment.
Schulak and Stark met when he designed her daughter's wedding and she then designed the interior of his home, and the two have since forged a friendship and collaboration which then formed the basis for this enticing volume. Here, they celebrate the art of the dining-table—demonstrating how even in the age of disposable tableware and casual dining, it is still possible to enjoy meals glamorously at home. With some creative thinking, we can all breathe new life into the dining room. Dining in style, we learn, can and should be a part of contemporary lifestyle, because it has the power to bring more beauty into our lives.
The formula of the book is simple: mixing high and low, historical and current, and integrating the table within home interiors. They paired historical table wares—mostly elaborate 18th century style pieces that they took on loan from museums, private collections, and friends, and from their own homes, with contemporary pieces made bespoke for the production of this book. They commissioned artists and craftspeople with the mission to reinterpret those vintage pieces in their own way, and to propose a new anf fresh creative way to created something similar. Schulak and Stark then mixed and matched, integrated the old with the new, and added beautiful food and magnificent flowers, creating the most stunning tables. The book illustrates the entire process, including images of the artisans in their studios preparing the pieces.
Roberto Lugo, the Philadelphia-based potter and social activist, created for this project colorful dinner plates in his graffiti style and decorated with his hip-hop signature portraits of young people of color. The way in which this so perfectly pairs with precious silver-gilt 18th century flatware and Saint-Louis crystal glassware is the magic of contemporary taste. It is beyond just aesthetic 'eclecticism,' it is about conversations of narratives, about the political content of design. The result is a mix of high and low, elegant and humble, and illuminates royal imagery with that of racial and social injustice in Lugo's voice. We see how Tyler Hays founded the BDDW, the company of handcrafted homeware—created pieces in blue-and-white to integrate with the antique delftware in the same color scheme from the collection of the Musée des Arts décoratifs; and Belgian artist Isabelle de Borchgrave d'Alena's colorful tablecloth, and hand-blocked wallpaper utilized as the backdrop for the Chinoiserie table. This reminds us that with the right touch, even the historical can be relevant, young, frersh, demonstrating that the value of craftsmanship is timeless.
This unique book is filled with passion and surprises, inspiring in the way it offers us a new way to look not only at table designs, but also at the way we dine. Not the ordinary white, not the over-the-top Victorian ornate, but something that celebrates the vintage, the contemoprary, and craftsmanship. It speaks of the great partnership of two people who found each other through their passion for the decorative arts and for living with beauty, and how well they complement each other. Whereas Schulak, founder of Culture Lab Detroit (an organization that fosters art and public projects in her hometown) brings the curatorial, encyclopedic approach to the production, Stark brings his mastery of big-thinking and signature humor, which can be found in every corner. Together, they weave table settings with layers and layers, eventually manifesting in sophisticated compositions that glamorize the art of the table of the moment.