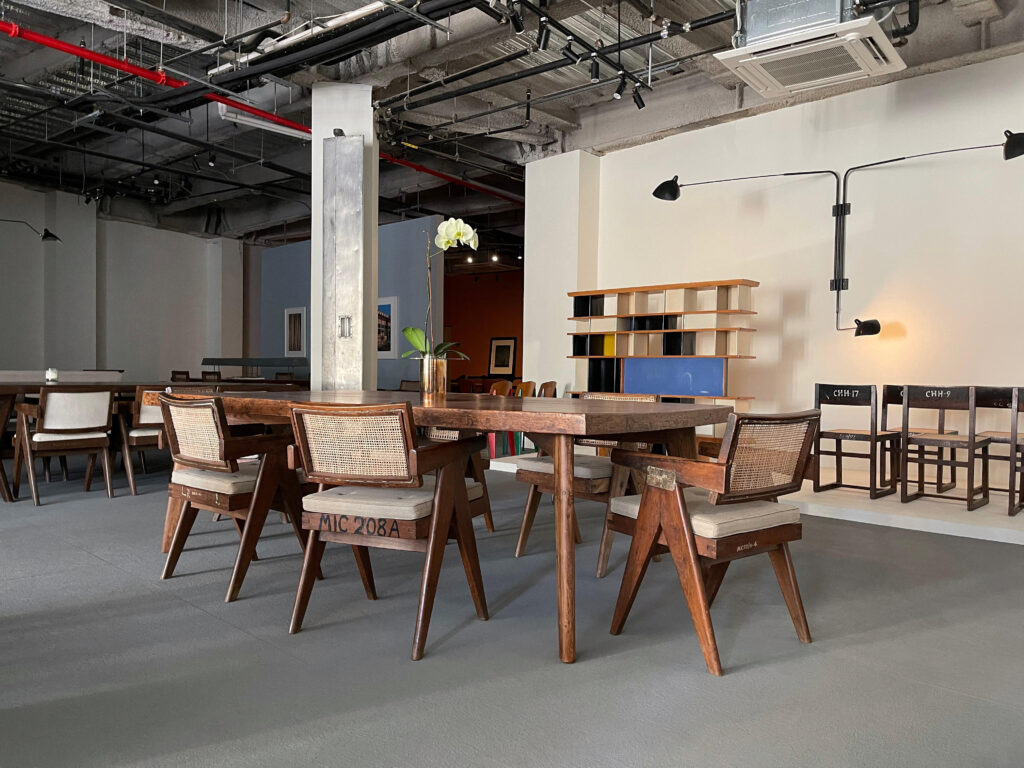 MDFG is a Brooklyn-based gallery, specializing in historical design. This new space, NYC's best kept secret and the home of some of the finest furniture produced in the middle of the last century, is quickly becoming a temple for the new generation of design collectors. Here, in the loft-style atmosphere, millennials can develop taste for good design, recognition of the power of great furniture to transform life, and a glimpse into the notion of design connoisseurship. This post-pandemic gallery, the love project of its founders, Jeffrey Graetsch and Ashely Klein, was created during the months of the coronavirus, when travel came to a virtual halt. The duo knew that design is enjoying a new and unprecedented level of demand, and particularly emblematic pieces, and that the design world would require something different in its post-pandemic life: something fresh, more personal, optimistic, and pure.  
Think Le Corbusier, Jean Prouvé, Mathieu Matégot, Pierre Jeanneret, Charlotte Perriand – and you understand Graetsch and Klein's taste. The furniture presented at MDFG was created by those who sought to change the world in the years following WWII and perceived furniture as an expression of social, cultural, and economic progress. To them, the concept of design became linked with that of modernity, and was a tool to glorify industry. They were searching for ways to express the new economic prosperity of the postwar era, and to move Modernism from the margins into the mainstream. That furniture is typically devoid of ornaments, always functional, always made for modern living, and meant to be accessible to ordinary French. This furniture has long been the blue chip in the international art market, seen in homes of influencers, architects, and art collectors. Today, they say, these pieces are found to be the perfect match for lofts that carry similar industrial aesthetics and which often serve as the preferred backdrop for collections of contemporary art.
The two met in one of the most remarkable museum exhibitions in recent memory, 'Venetian Glass by Carlo Scarpa,' exhibited at the Met in 2013. I was stunned—as was everyone else—by the unparalleled show, which brought together the full scope of what the Italian architect created when working for iconic glassmaker Paolo Venini. It was there that Graetsch and Klein found each other. Now, nine years later, they are married, with two young children. They all live in a stunning townhouse in the Williamsburg neighborhood of Brooklyn, which has been featured in magazines and in the newly published book, Mid-Century Modern: High-end Furniture in Collectors' Interiors, and MDFG, a gallery that showcases the highest quality of radical furniture and lighting produced in the postwar years.
He was a fashion photographer who came to New York from Toronto, and who had a strong interest and passion for collecting modern furniture, sifting through flea markets and visiting high-end galleries where he started to dream and to connect to what he really likes. She was an architect who already knew that her passion for the decorative arts would lead her to work with objects rather than with large architectural projects. At first, they operated the gallery out of the apartment, and during the pandemic, they opened this new space, which is set to become the temple. They share the belief that Design is more than great objects that function at home. To them, it is a way of life, a philosophy, and they perceive themselves as custodians whose role is to preserve these high manifestations of design culture. One day, those objects will find other homes. Graetsch has developed extraordinary expertise and he knows how to find and authenticate a piece of vintage furniture. He knows construction, screws, joinery, wood, and metal. He travels all over the world to secure authentic pieces that are becoming more and more rare, and harder to find. Klein is responsible for the business aspects and recently has launched interior design services. Their first featured interior was recently published in The World of Interiors.
The furniture Pierre Jeanneret created for the governmental buildings in Chandigarh, India is exceptional (see below). They have made endless trips to the capital of the Northern Indian states of Punjab and Haryana and examined enough pieces to know the authentic from the counterfeit. It is important to ensure that their clients are safe. As the market has grown and developed, it has become increasingly difficult to source that material. The recent sale of design masterpieces from the collection of Belgian collector Daniel Lebard by Christie's has become a new triumph for French modernist furniture. From here, Graetsch and Klein believe, the market will grow as did the art market.