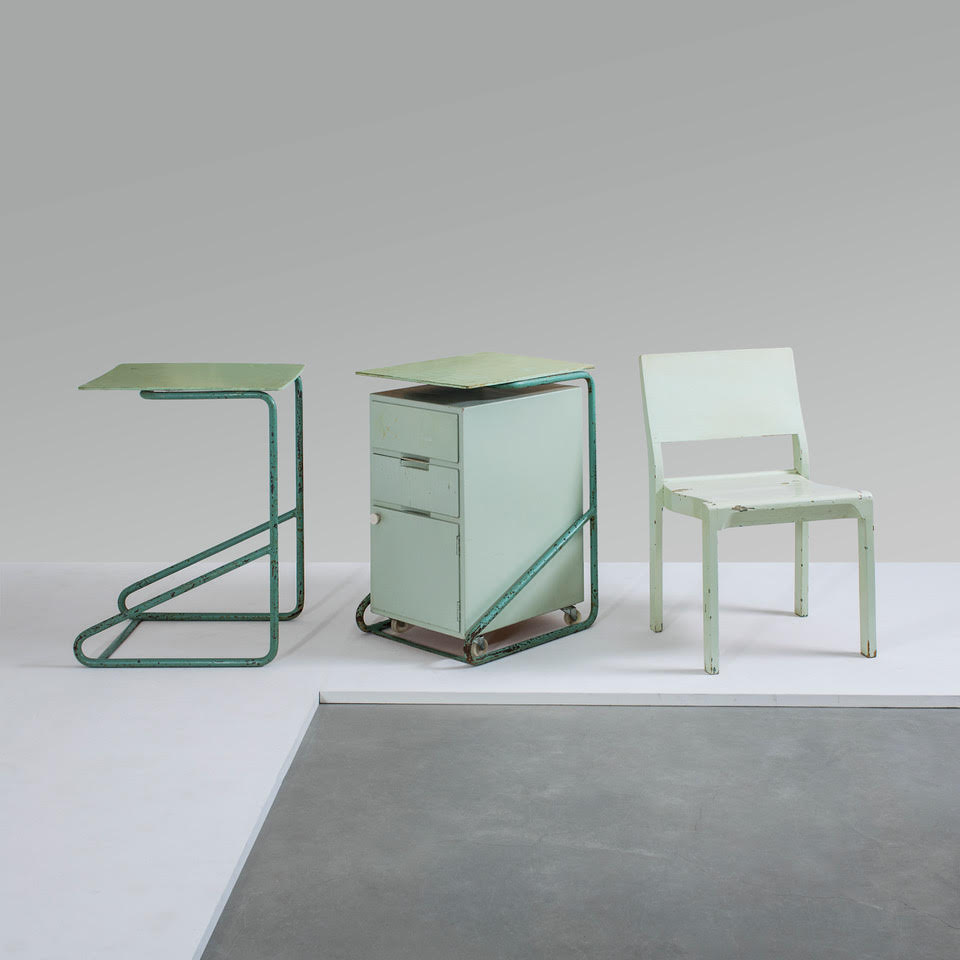 An amazing and fresh discovery in the world of modern design will be offered for sale at the Finland's Annmaris Auctions, on April 18th. This discovery, a group of original furniture which Alvar Aalto created for his iconic Paimio Sanatorium, all in its original condition, was accidently found last month in a small warehouse in Finland.
No other type of architecture has acted more as an early testing ground for modernism as the sanatorium. It was a European institution, a medical facility for long-term illness, mostly associated with the treatment of tuberculosis. While dating back to the 19th century, the sanatorium had its heyday in the early part of the 20th century, attracting those seeking for clean, fresh air, and upscale treatment. Many of the sanatoria (plural for sanatorium) were designed in the modernist idiom which itself came to promote and advocate the intersection of hygiene, health, and design.
The ultimate expression of this notion was the Paimio Sanatorium, in Paimion Finland, completed in 1933, and designed by Alvar Aalto. Completed in 1933, it has been canonized as an internationally recognized masterpiece of modern architecture, often considered the breakthrough in Aalto's oeuvre. It is where he used the white wall, the plain window, the seemingly industrial materials and aesthetics, adopting the new idiom of functionalism, and giving a spectacular expression to modernism in architecture and design. Alto claimed that the modernist aspect developed in relation to the specifics of program and site.
At Paimio, he designed not only the main building and the senior physician's house, he also provided the design for the row houses, the morgue known as the Rose Cellar, garages and other technical spaces. Also was responsible for all of its furnishings, and in fact, used this project to test some of his innovations in furniture design. The pieces, used by the doctors and patients, were produced in bent wood, tubular steel, and molded plywood, and other innovative methods, and many of them became prototypes for Aalto's later productions. The use of such colors as light green and light grey meant to act as calming and relaxing agents for the desired atmosphere, while each area had it´s own color scheme — red, blue, green, orange — which was also partly painted on furniture. The lighting was designed together with Paavo Tynell, the Finnish lighting master, and the artistic director of TAITO OY, which produced most of the lights in Finland on time.
If you are a design enthusiast, here is a rare opportunity to acquire a museum-quality piece of furniture, a piece of history, an expression of one of the best modernist buildings in history. April 18th at Annmaris Auctions.